Connecting the HHT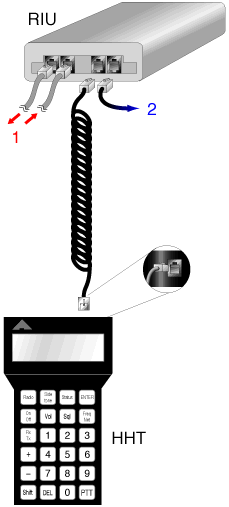 1 - To/from other RIUs or TDM Card on DACS.
2 - To Panel (if required)
See ASSY-01-RIU04-MN-2 for information on connecting the RIU to the TDM Ring, setting RIU addresses, and panel connections.
Connection Steps
RIU should already be connected to its power supply, TDM Ring, and synchronized. See RIU Assembly Booklet and/or DACS Operation & Maintenance Manual for further information.


If a state machine is monitoring the HHT port, a few seconds after connecting the HHT to the RIU, the state machine program will begin to display its designated information on the HHT display.


If no state machine is monitoring the HHT port, or the RIU is not synchronized with the TDM Ring, the HHT display will show only a blinking cursor.


Part Numbers
| | |
| --- | --- |
| RIU-0X-D | Remote Interface Unit (RIU, X = # of channels) |
| CA-RJ12-RJ12-L-A | Serial Cable (if purchased separately) |
| HHT-01 | Hand-Held Terminal Unit (cable included) |