DACS App Note
RIU/AIU/DDI Rackmount Bracket Specifications (#42)
All measurements given here are in inches, and are accurate to the nearest 1/16" (0.0625").
Front View

Enlargement of Rackmount Hole

Enlargement of RIU/AIU Mounting Space

---
Side View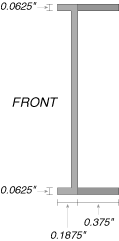 ---
Top View

---
Installing RIU/AIU into Rackmount Bracket
Remove and retain screws near bottom of faceplate.
Remove faceplate with white printing.
Remove plastic bezel surrounding faceplate. Retain this plastic piece for re-installation if RIU/AIU is removed from the rackmount bracket.

Using original screws, attach faceplate to front of mounting bracket. Attach body of RIU/AIU to rear of mounting bracket, as shown here.