Technical User Guide
The following information is pulled from the AI-Delta Technical User Guide. For a comprehensive overview of the AI-Delta, please see the full guide:
View Guide
The ASTi Interface – Delta (AI-Delta) is a compact audio and I/O distribution device that connects local or remote operator headsets, speakers, control panels, and other peripherals to the network via Ethernet.
A comprehensive overview of the AI-Delta can be found in the Technical User Guide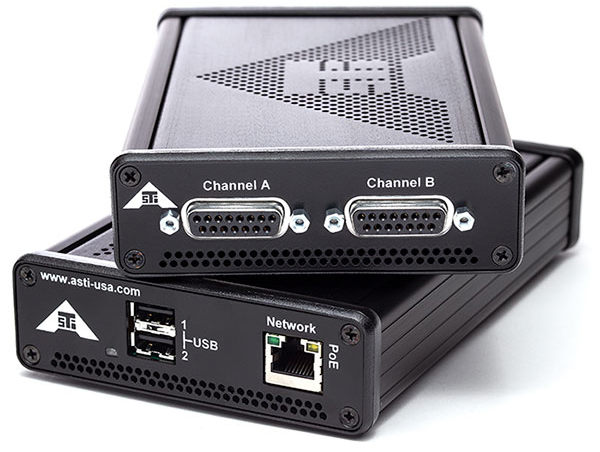 General Specifications
Compatible with
Voisus, SERA
Dimensions
6.56"L x 4.18"W x 1.33"H
Weight
A packaged AI-Delta weighs 14oz.
Power Source
Ethernet port via Power over Ethernet (PoE) IEEE 802.3af
Power Consumption
< 12.5 w @ 56 VDC
Mean Time Between Failure (MTBF)
32,552.67 hours (COTS)
27,150.44 hours (MIL)
Audio Input/Output
Audio Input
| | |
| --- | --- |
| Impedance | 1.65 kΩ |
| Level | 4.5 Vpp max (2.2 Vpp differential) |
| Gain | 0 dB, +10 dB to +65 dB, software configurable* |
* The AI-Delta gain covers a total range of 65 dB. You can set the range of +10 dB to +65 dB in 1 dB steps; however, you cannot select the range 1dB to +9 dB as a function of design.
Audio Output
Impedance
10 Ω
Max. power
150 mW at 32 Ω
Max. Output Signal
3.75 Vpp at 150 Ω
2.4 Vpp at 8 Ω
Frequency response
20 Hz to 20 kHz
Ports, Protocols, and Services
The AI-Delta requires the following ports, protocols, and services:
| Port | Protocol | Service |
| --- | --- | --- |
| 8000 | TCP | HTTPS server for device configuration |
| 68 | UDP | DHCP client port (bootpc) |
| 9990 | UDP | Device detection multicast port |
| 63001 | UDP | Voisnet control packets port |
| 63002 | UDP | Voisnet audio packets port |
Memory Devices
Volatile
Type
Size
User Modifiable
Function
Process to Clear
CPU internal cache
512 KB
No
Internal cache for CPU
Remove Power
Count to 30
Restore Power
Internal cache
128 KB
No
Internal cache
Remove Power
Count to 30
Restore Power
RAM
1 GB
No
RAM
Remove Power
Count to 30
Restore Power
Non-Volatile
| Type | Size | User Modifiable | Function | Process to Clear |
| --- | --- | --- | --- | --- |
| eMMC | 4 GB | Yes | Application | Contact ASTi |
Pinouts
Audio Interface
Warranty