Application Note
USB License Keys and your ASTi System (#123)
October 1, 2018
ASTi has transitioned from options files to USB License Keys for the latest Telestra and Voisus 7.X software series. This application note answers frequently asked questions about Sentinel licensing and your ASTi system. If you have additional questions or USB License Keys are an unacceptable solution for your program, contact ASTi Support at (703) 471-2104 or support@asti-usa.com.
Why is ASTi switching to a new licensing system?
In the past, ASTi used options files for Telestra and Voisus licensing. Options files are locally stored files that activate certain software packages on ASTi systems. They're tied to specific hardware, making them less flexible. Options files have some major downsides: they take longer to activate spares and make it hard to try out new features.
But now, all of that has changed. On October 1, 2018, ASTi transitioned to USB License Keys, which give you the power to choose when, where, and how to use your resources. USB License Keys are more flexible because they let you transfer functionality among systems. Unlike options files, licenses are tied to Sentinel USB keys that you can insert into any system running ASTi software. And yes, we mean any system, including ASTi-provided hardware, CFE, GFE, and virtual machines (VMs). As a result, you can quickly pool your resources in a time crunch. Let's say you have a last-minute exercise coming up, but you're short ten clients. You can borrow those clients from other systems, stacking multiple keys on one server.
When a system fails, USB License Keys will get you up and running in no time. Options files force you to contact ASTi, request a new license for your spare, and wait for a response. Your system might be down for hours or even days. USB License Keys solve this problem, reducing down time to mere minutes. Fire up a spare, and insert the failed system's key. It's that simple.
USB License Keys can also give you temporary functionality at a reduced cost, saving you time and money. Gone are the days when you have to pay full price for credits you'll only use for a couple of weeks. Trying new features won't require you to install a new license file, add and remove credits, and fill out tedious paperwork. ASTi can now issue loaner and trial licenses that expire after a limited time period—and it's all thanks to USB License Keys.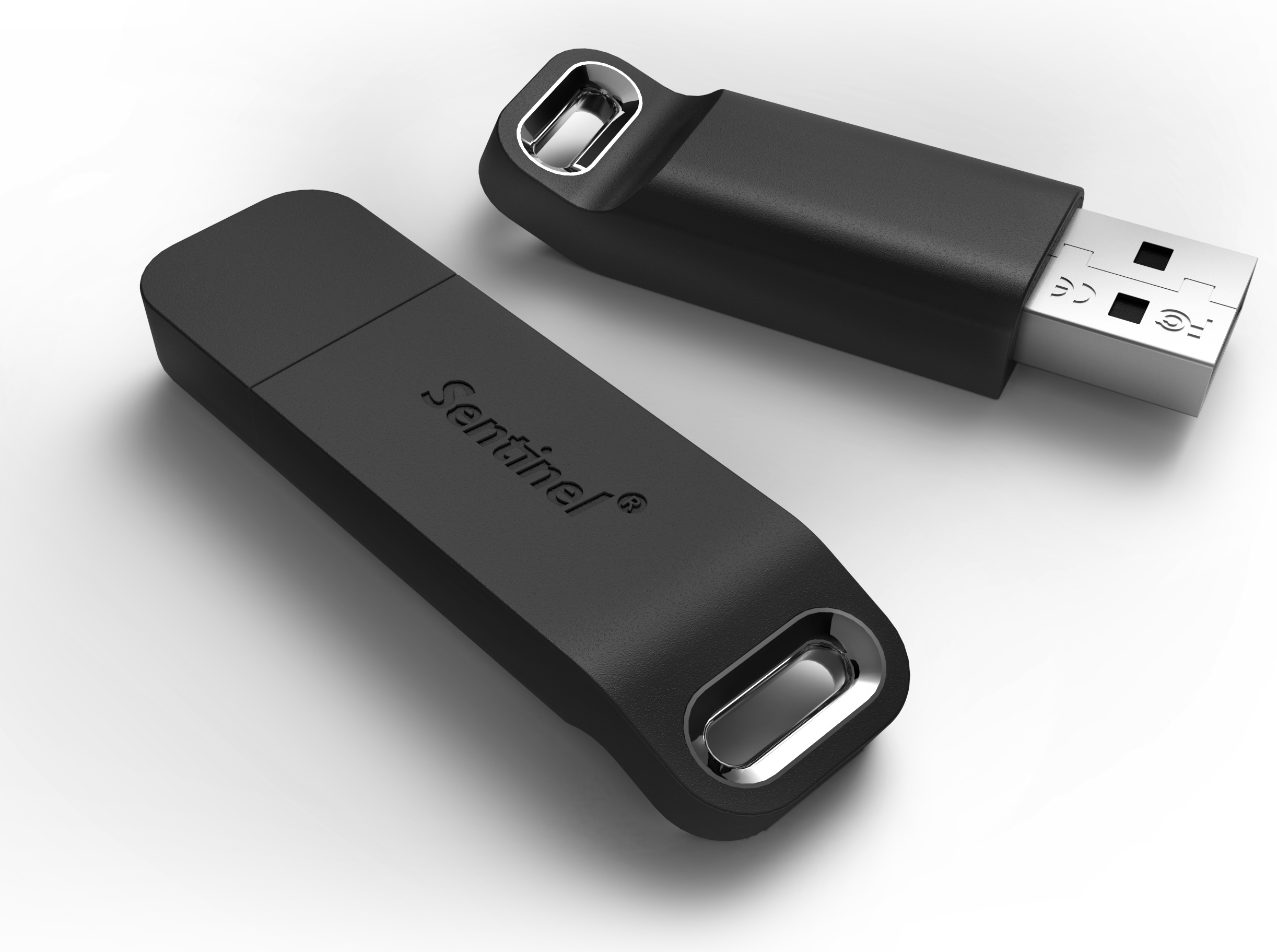 Which ASTi products received USB License Keys?
The licensing change impacted ASTi's Telestra and Voisus products.
Which ASTi software versions require a USB License Key?
You'll need a USB License Key for the following software versions:
Telestra 7.1.0 and later

Voisus 7.0.1 and later
Is the USB License Key approved for DoD deployment?
Yes, USB License Keys are approved for DoD deployment. The key is based on non-flash memory and doesn't report to the operating system as removable storage. For DoD deployment information, check out these documents:
The Voisus Risk Management Framework (RMF) Authority to Operate (ATO) accreditation package also lists the Sentinel key in the Artifacts subfolder.
When I order a new system, will I receive an options file or USB License Key?
New programs will receive ASTi's latest software version and USB License Keys. However, existing programs that require earlier software versions may still receive an options file.
What does a USB License Key cost?
The initial USB License Key is included with your ASTi system at no additional cost. Lost keys require replacement purchases. For more information about pricing and replacements, contact ASTi Support.
I'm not upgrading my system right now. Do I still need a new USB License Key?
No, older versions of Telestra and Voisus (i.e., Telestra 6.X and 4.X and Voisus 5.X) still use options files.
Will my legacy platform support USB License Keys and/or software version 7.X?
Most systems purchased before 2005 aren't compatible with USB License Keys or 7.X software. If your system's serial number is 3xxxx or 40xxx, contact ASTi Support to check for compatibility.
Does my options file work with software version 7.X?
Options files aren't compatible with Red Hat, Voisus, and Telestra 7.X. USB License Keys are included in the cost of the upgrade. Certain Enterprise License Agreements (ELAs) don't require USB License Keys. If your program is under an ELA, contact ASTi Support for more information.
How do USB License Keys impact development systems?
Each development system requires its own key. A single USB License Key can run multiple versions of software, depending on your needs. Every development system is unique, so pricing may vary based on your program's custom requirements. If your development system is covered under ASTi's Information Assurance (IA) and Software Maintenance, USB License Keys are included at no additional cost. For additional questions and pricing information, contact ASTi Support.
How do USB License Keys impact Text-to-Speech (TTS) and Speech Recognition (SR)?
The USB License Key includes both TTS and SR licenses, but TTS requires an additional licensing file.
Can I license multiple VM instances on one USB License Key?
No, a single USB License Key supports one VM instance.
How can I tell which resources are on a USB License Key?
Each USB License Key comes with an attached ID tag. When you plug the key(s) into a system, the Remote Management System or Voisus web interface list each key's ID and enabled software features.
Here's an example of a USB License Key ID tag for Voisus:
What if my system no longer recognizes the USB License Key?
Open a Return Merchandise Authorization (RMA) at rma.asti-usa.com/rma to start the replacement process. For replacement pricing and failed unit return requirements, contact ASTi Support.
Where can I find the USB License Key's manufacturer information?
Go to cpl.thalesgroup.com for original manufacturer information.