Technical User Guide
The following information is pulled from the ACENet Techincal User Guide. For a comprehensive overview of ACENet, please see the full guide:
View Guide
The Audio Communications Environment Network (ACENet) is a low-latency network for remote digital audio and I/O distribution. ACENet devices such as the ACE-RIU, ACU2, Ashly Amplifier, and Crown Amplifier distribute audio to a variety of user interfaces, such as military headsets, PTT devices, HHT (Hand-Held Terminal) devices, speakers, and live radios.
A comprehensive overview of ACENet can be found in the Technical User Guide.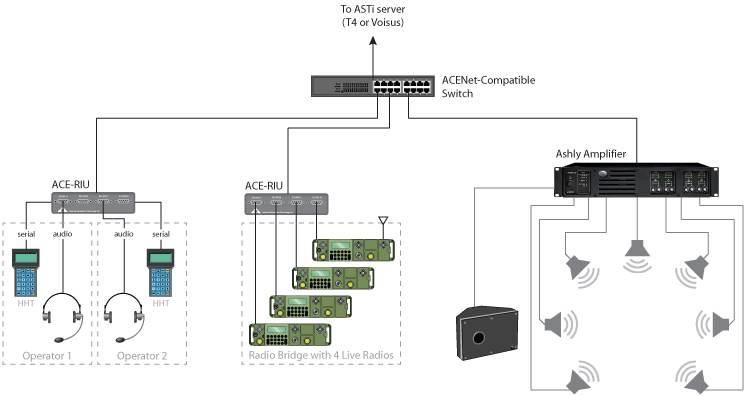 Requirements
| | |
| --- | --- |
| Closed Network | No other traffic should be present on the ACENet network. Only ASTi servers, ACENet audio distribution devices, and approved ACENet-compatible network switches are permitted. |
| Gigabit Switch | If you wish to use a network switch with ACENet, it must be gigabit-capable. See below for further switch requirements and a list of ACENet-compatible switches. |
| Category 5e cable | All cabling connections on the ACENet network must be Category 5e grade or higher. |
Cabling Requirements
Category 5e cable or better
100 meters (328 feet) maximum distance
Wire according to 1000BASE-T Specification
Switch Requirements
Gigabit Capable (1000 Mbps)
OSI Layer 2 Switching device.
Must be a LAN switch, not a hub.
ACENet-Compatible Switches
| Switch | Part Number |
| --- | --- |
| SMC1 | SMCGS24, SMC8508T, SMCGS16, SMCGS8 |
| Netgear | GS105, GS108, GS605, JGS516, JGS524 |
| Hawking | HGS5T |
| Linksys | EG005W |
| Cisco Catalyst | 6500 series, 4900 series, 4500 series, 3500 series, 2960 series |
| HP ProCurve | 2800 series |
1 The SMC switches are not supported if manufactured in 2012 or later due to functionality changes.
Incompatible Switches
| Switch | Part Number |
| --- | --- |
| 3COM | 3C164782 |
2 Packet drop outs, possibly due to 802.1 prioritization