Technical User Guide
The following information is pulled from the ACE-RIU Techincal User Guide. For a comprehensive overview of the ACE-RIU, please see the full guide:
View Guide
The ACE-RIU is a compact 48kHz digital and audio distribution module that connects remotely located operator headsets, speakers, and control panels to the ACENet network. The ACE-RIU is compatible with the Telestra 4 and the Voisus Server product lines. The ACE-RIU provides lownoise analog-digital conversion and low-latency audio distribution.
A comprehensive overview of the ACE-RIU can be found in the Technical User Guide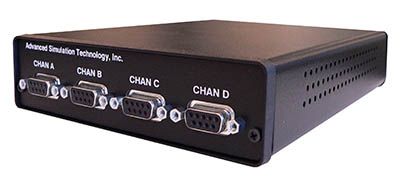 General Specifications
Compatible with
Voisus, Telestra
Part Number
ACE-RIU
Dimensions
7.5" length x 5.55" width x 1.55" height
Weight
A packaged ACE-RIU weighs 1.5 lbs. The included power supply weighs 0.5 lbs
Power Source
Individual power supply, included.
Power Consumption
15 VDC, 2 A
Mean Time Between Failure (MTBF)
251,042.45 Hours (COTS)
119,713.60 Hours (Mil Spec)
Audio Input/Output
Audio Input
| | |
| --- | --- |
| Impedance | 1 kΩ |
| Level | 2.5 Vpp max |
Audio Output
| | |
| --- | --- |
| Impedance | .1 Ω into an 8 Ω |
| Max. Signal Level | 10vpp |
Memory Devices
Volatile
Type
Size
User Modifiable
Function
Process to Clear
Micro-controller Internal SRAM
69 KB
No
Used as RAM for an internal MCU
Remove Power
Count to 30
Restore Power
Non-Volatile
| Type | Size | User Modifiable | Function | Process to Clear |
| --- | --- | --- | --- | --- |
| Micro-controller Internal | 256 KB | Yes | Firmware | None |
| Flash | 8 Mb | Yes | Firmware | None |
Pinouts
Warranty
ASTi warrants to the buyer and its customers that all items delivered and all services rendered hereunder will conform to the requirements hereof and will be free from defects. In addition to other remedies that may be available at law or in equity, the buyer may return to ASTi any nonconforming or defective items or require correction or replacement of the item, all at ASTi's risk and expense. If the buyer does not require correction or replacement of nonconforming or defective items, ASTi shall repay such portion of the contract price or such additional amount as is equitable under the circumstances.
Warranty period: 12 months from shipment date